Plastic Imaging Fibers
Kuraray Plastic Imaging Fibers can transfer images to other side.
Our Plastic Imaging Fibers are much more flexible and resistant to breakage than glass fibers.

Bundle of multiple micro fibers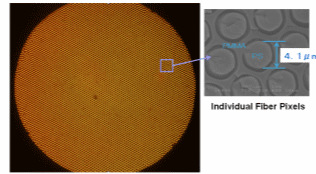 Cross sectional view of KURARAY Image fiber(0.5mm-6,000 pixels) opposite end illuminated (2m)
Formulation Examples
Pixel
Diameter(mm)
Core Material
Clad Material
NA
Strand Diameter(μm)
6,000
0.5
PS
PMMA
0.55
6.1
10,000
0.8
4.6
Applications
Medical endoscope, Industrial fiberscope
Features
Flexibility
Young's modulus is twentieth of glass fibers.
Easy to bend, strong to breakage.
Wending a 0.5mmΦ 10,000 pixels Plastic Imaging Fiber onto a 13mmΦ stick, our Plastic Imaging Fiber has no breakage and the optical loss is very low.
Bending Loss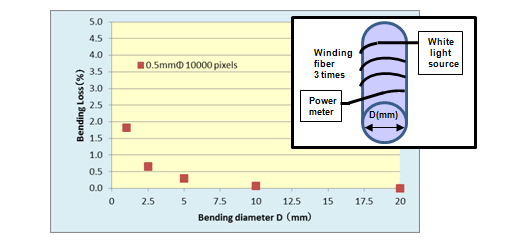 High NA 0.55 (PS core and PMMA cladding)
High resolution is achieved by fine and high pixels.
Cross Talk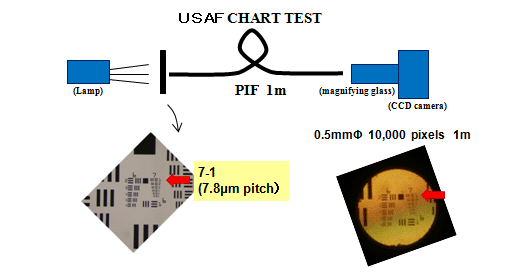 Custom-made
Customize the outer diameter and pixel to fit your needs.