Wavelength Shifting Fibers
Wavelength Shifting Fibers
Formulations 1)
Description
Emission
Absorption
Peak[nm]
Att.Leng.2)
[m]
Characteristics
Color
Spectra
Peak[nm]
Y-7(100)
green
See the following figure
490
439
>2.8
Blue to Green Shifter
Y-8(100)
green
511
455
>3.0
Blue to Green Shifter
Y-11(200)
green
476
430
>3.5
Blue to Green Shifter (K-27 formulation)
Long Attenuation Length and High Light Yield
B-2(200)
blue
437
375
>3.5
UV to Blue shifter
B-3(200)
blue
450
351
>4.0
UV to Blue shifter
O-2(100)
orange
550
535
>1.5
Green to orange shifter
R-3(100)
red
610
577
>2.0
Green to red shifter
1) Test fibers are Non-S type, 1mmФ.
2) Measured by using bialkali PMT and blue LED(445nm).
Otherwise than descriptions mentioned above, various WLS fibers are available.
Attenuation Length Measurement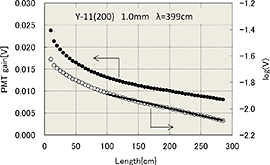 We routinely measure attenuation length by 3m fiber sample for all production.
The attenuation curve (for example) in the figure is approximated by the one exponential expression

except very near distance. The attenuation length

is calculated using the data between x=100cm and x=300cm.
Technical Data
Emission Spectra
Y-7(100)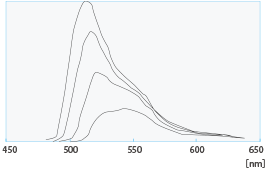 Exiting Wavelength: 440nm
Y-8(150)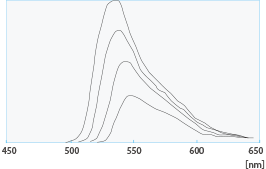 Exiting Wavelength: 455nm
Y-11(200)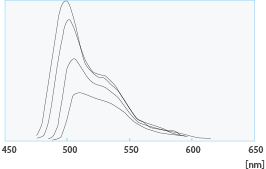 Exiting Wavelength: 430nm
B-2(200)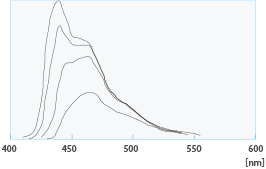 Exiting Wavelength: 430nm
B-3(200)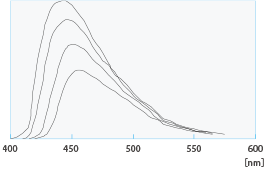 Exiting Wavelength: 430nm
O-2(100)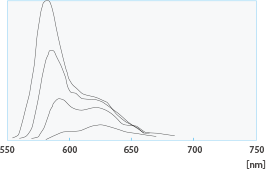 Exiting Wavelength: 430nm
Attenuation Length Measurement

Absorption and Emission Spectra
Y-7, Y-8, Y-11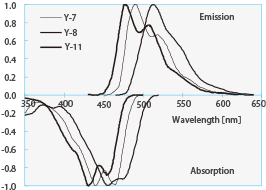 B-2, B-3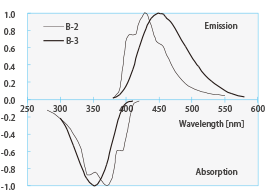 O-2, R-3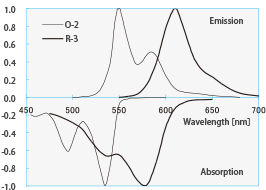 Transmission Loss
Y-7, Y-8, Y-11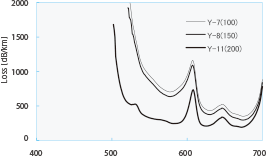 Wavelength[nm]
B-2, B-3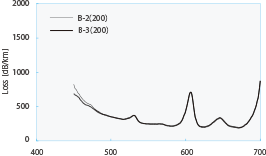 Wavelength[nm]
O-2, R-3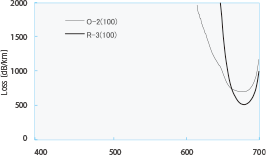 Wavelength[nm]