Scintillating Fibers
Formulations
Description
Emission
Decay Time
[ns]
Att. Leng.2)
[m]
Characteristics
Color
Peak [nm]
Spectra
SCSF-78
blue
450
See the following figure
2.8
>4.0
Long Att. Length and
High Light Yield
SCSF-3HF (1500)
green
530
7
>4.5
3HF formulation for
Radiation Hardness
SCSF-81
blue
437
2.4
>3.5
Long Attenuation Length
1) Test fibers are Non-S type, 1mmФ.
2) Measured by using bialkali PMT and UV light (254nm). Quality control is made by another measurement of the transmission loss every batch.
Attenuation Length Measurement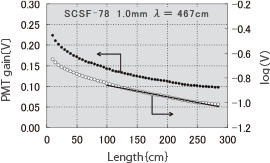 We routinely measure attenuation length by 3m fiber sample for all production.
The attenuation curve (for example) in the figure is approximated by the one exponential expression

except very near distance. The attenuation length

is calculated using the data between x=100cm and x=300cm.
About "Export Trade Control Order"
The scintillating fiber is assigned in article 1 of the Export Trade Control Order as undermining the maintenance of international peace and safety.
To export this item, the approval of the Minister of Economy, Trade and Industry of Japan is required, so we need to confirm the end user and application for each sales.
We may sell the fibers to you, but we would have to check and confirm the end user and application everytime we have an inquiry from you, and we may not be able to accept some inquiries depending on the end user and application.
Technical Data
Emission Spectra
SCSF-78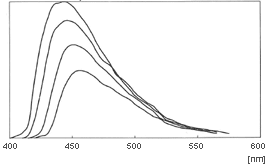 Exiting Wavelength: 350nm
SCSF-3HF (1500)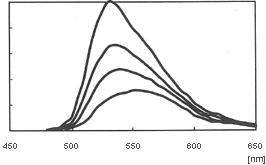 Exiting Wavelength: 340nm
SCSF-81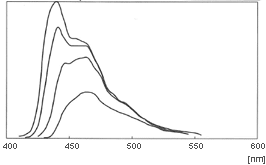 Exiting Wavelength: 370nm
Attenuation Length Measurement

Transmission Loss
SCSF-78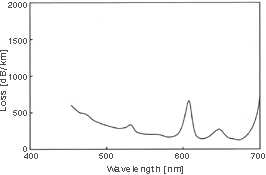 SCSF-3HF (1500)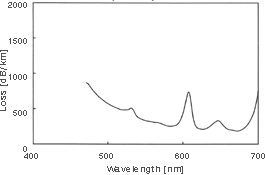 SCSF-81